It's a common question – Do solar panels work on cloudy days? The short answer is: Yes. The long answer is a bit more complicated. Even on cloudy days, sunlight gets through. If you've ever gone to the beach on a cloudy day, and forgot to use sunscreen, and ended up with a sunburn, is proof enough. Let's take a look at how solar panels are affected by cloudy and rainy weather.
How Do Solar Panels Work?
Solar panels work by converting solar energy into electricity. When sunlight hits the solar cells, it knocks off some electrons and those electrons flow through the wires as electricity. That's a highly simplified description, but it's fine for now.
What About Cloudy Days?
Obviously, on cloudy days, solar panels aren't going to generate as much power. How much less? It depends on how cloudy it is. If it's thin clouds, you'll generate at around 25% efficiency. If the clouds are thicker, it could be only 10%. That being said, you're still generating electricity and saving on your electric bill.
While you may think warm, sunny days are ideal for solar energy generation, actually, cooler days are better. Above 77 degrees, solar panel efficiency drops, so having a solar array in a hot, sunny place like Phoenix, Arizona, or Las Vegas, Nevada, would actually be slightly less efficient than having one in a state like Pennsylvania or Michigan. Your savings also depend on local electricity costs.
Should I Get A Solar System Anyway?
Yes, you should. Even with fewer sunny days, you'll still save on your electric bill. While more frequent cloudy days may reduce your solar system efficiency somewhat, it's still a good investment. The cost of a solar energy systems has dropped dramatically in the last few years and will allow you to recoup your investment faster. The savings on electricity will help pay for the system, even if you have cloudy weather.
How Well Do Solar Panels Work in Cloudy Areas?
Even though cloudy weather can reduce the efficiency of solar energy systems, they're still popular in places with less sunny weather. Some newer solar energy systems have technology to compensate for it. One technique is solar cells that capture a wider range of sunlight, including red and blue light. This enables the solar cells to create more energy on cloudy days. Another is having a "backside mirror", which is a sheet of reflective material that reflects the sunlight back onto the solar cell to capture some of the light that wasn't initially absorbed by the solar cells. By utilizing these techniques, it increases the energy output of a solar energy system.
Shade can also affect a solar system. These technologies can increase the power output if you have some areas that are affected by shade trees. One way to avoid shade issues is to have your system installed in a way to reduce or eliminate the problem.
Stormy Weather – Not All the Time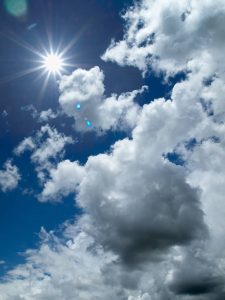 Even in areas with near constant cloudy weather, solar energy systems are popular. In cities like New York, San Francisco, Boston, and Seattle, all of which are cloudy and cool, more than warm and sunny, have high rates of solar energy system installation. The high cost of electricity, rather than having more cloudy and cool days than sunny, is the major factor in the installation of solar energy systems. The savings on electric costs far outweighs any weather issues. Systems designed and installed to compensate for the weather conditions allow customers to save on their electricity costs and get a relatively fast return on their investment. On partly cloudy days, solar energy systems can work at up to 80% of capacity. Adding a battery storage system can also help offset the lower power output on cloudy days. On sunny days, and during warmer weather, when it's typically sunnier, net metering can help offset any power generation losses due to cloudy or bad weather.
But…
But what? Not sure about solar energy systems because you might not be at peak efficiency all the time? Get real. You'll be saving money and cutting your electricity costs anyway. Here's a quote from an article by Professor Tom Murphy from UC San Diego:
A typical location within the U.S. gets an annual average of 5 full-sun-equivalent hours per day. This means that the 1000 W/m² solar flux reaching the ground when the sun is straight overhead is effectively available for 5 hours each day. Each square meter of panel is therefore exposed to 5 kWh (kilowatt hours) of solar energy per day. At 15 percent efficiency, our square meter captures and delivers 0.75 kWh of energy to the house. A typical American home uses 30 kWh of electricity per day, so we'd need 40 square meters of panels. This works out to 430 square feet, or about one sixth the typical American house's roof (the roof area of a two-car garage). What's the problem?
If that doesn't convince you, here's another interesting fact. Germany, a country not known for its sunny weather, is a leader in solar energy production. They account for about 25 percent of the world's solar energy production.
Germany has actually had some times where they generate so much electricity from its renewable sources, that it's become a problem, mainly due to an inadequate infrastructure, which is an issue in many countries, including the US. Here's a link to an article that goes into detail of the situation (as of March of 2020): https://www.greentechmedia.com/articles/read/germanys-stressed-grid-is-causing-trouble-across-europe
So, the bottom line is that even with a slight reduction in generating capacity, solar energy systems do work well in cloudy or shady conditions. Aside from the monetary savings, solar energy helps reduce our dependence on fossil fuels and helps the environment.